We are excited to announce the appointment of Patrick Garvey, CPA, as the new Chief Financial Officer (CFO) for the Anderson Healthcare System. With an impressive background in finance, Patrick brings over 20 years of experience in healthcare management, including 10 years as a CFO in various health systems. He most recently served as CFO at Tennova Healthcare in Cleveland, Tennessee.
As our new CFO, Patrick will play a pivotal role in guiding our financial strategies, ensuring the long-term sustainability and growth of our healthcare system. He will manage the fiscal operations for all System entities, including Anderson Hospital and Community Hospital of Staunton. He will also have responsibility for the departments of Finance, Materials Management, Revenue Cycle (including Patient Access, PFS, and Coding), and Managed Care contracting.
We are confident that Patrick will bring fresh perspectives and innovative ideas to our financial operations, fostering a culture of fiscal responsibility and will be instrumental in navigating the ever-evolving landscape of healthcare economics.
Patrick's first day was Monday, August 28, 2023.
Ann Altgilbers achieves board certification in advanced diabetes management through the Association of Diabetes Care & Education Specialists
Ann Altgilbers MSN, APRN, FNP-BC, BC-ADM, CPN has recently passed a rigorous examination that qualifies them as board certified in advanced diabetes management (BC-ADM) through the Association of Diabetes Care & Education Specialists (ADCES). Attaining this certification showcases Altgilbers' expertise in providing people with diabetes in the metro east access to high quality diabetes care and management.
"Obtaining the board certification in advanced diabetes management, shows my commitment to my patients and nursing practice. Continuing education is so important for the care that I deliver to my patients. I will continue to keep learning and collaborating with my patients to reach their health goals," said Altgilbers.
"Becoming certified in advanced diabetes management helps to ensure that the services Ann provides are commensurate with their advanced training," said Jodi Lavin-Tompkins, ADCES director of accreditation and content development. "Potential and current employers should recognize this credential as a distinguishing factor when considering the workforce they deploy to assist those with diabetes to reach their health goals and to have a meaningful role in the management of those with diabetes, prediabetes and cardiometabolic conditions."
The person holding the BC-ADM credential skillfully manages complex needs and assists people with prediabetes, diabetes and other cardiometabolic conditions in their therapeutic problem-solving. Health care professionals who hold the BC-ADM certification, based on their scope of practice defined by their state licensure, can:
Adjust medications.
Treat and monitor acute and chronic complications and other comorbidities.
Counsel people on lifestyle modifications.
Address psychosocial issues.
Use patient-generated health data and technology for pattern management.
Participate in research and mentoring.
Altgilbers practices at Endocrinology of Maryville and has practice hours on Monday, Tuesday, Wednesday and Thursday in Maryville. Some Monday hours in Highland.
Obtaining the BC-ADM certification from ADCES for advanced clinician practitioners promotes recognition of their skills and knowledge managing the complex needs of people with prediabetes, diabetes and other cardiometabolic conditions. Learn more about the BC-ADM credential at www.diabeteseducator.org.
Ann Altgilbers MSN, APRN, FNP-BC, BC-ADM, CPN
A recent donation of training equipment is enhancing preparedness and improving the skills of rural fire departments and their community members. Thanks to a grant from the Small Rural Hospital Improvement Program, Community Hospital of Staunton (CHS) was able to purchase CPR mannequins intended for rural volunteer fire departments.
Anderson Hospital EMS Coordinator, Darin Hartman, along with CHS President, Larry Spour, and Past-President, Sue Campbell, presented the equipment during a recent training at the Hamel Fire Department (FD). Responders from Hamel Fire\EMS, New Douglas FPD, Alhambra FPD, Olive FPD and Worden FPD were in attendance. The CPR mannequins will be used by these dedicated volunteers to teach their citizens hand only CPR. CHS's generosity and support through this donation will undoubtedly enhance preparedness and improve the skills of rural community first responders.
The training event also included first responder instruction on various scenarios using a high-fidelity mannequin known as the Apollo High-Fidelity Patient Simulator. "This advanced manikin can simulate real-life scenarios, allowing our team to practice and refine their techniques in a safe and controlled environment," said Darin. "This invaluable training will ultimately translate into better care and assistance for our community members during emergencies."
One of the rewarding things about being a community hospital is when we get the chance to "give back" to the community. Our Auxiliary and Medical Staff do that every year through the scholarship programs they created for area students seeking education and careers in healthcare!
This year a total of 13 students earned scholarships worth $1,000 each to be used for their education seeking healthcare careers. Eligible students must be enrolled in hospital-related healthcare fields.
The Medical Staff awarded scholarships to:
Kennison Adams, Edwardsville
University of Missouri- Kansas City
Bachelor's Degree and Doctor of Medicine
Ellery Darr, Edwardsville
Loyola University Chicago
Nursing Program
Courtney Garrison, Collinsville
Maryville University
Family Nurse Practitioner Program
Amber Gassmann, Maryville
SIUE
Bachelor of Science in Nursing
Lily Jurgena, Collinsville
SIUE
Bachelor of Science in Nursing
Gracy Levin, Alhambra
Southwestern Illinois College
Health Sciences Nursing Program
Sarah McLaughlin, Maryville
SIU School of Medicine
Masters of Public Health and Doctor of Medicine
Mackenzie Sievers, New Douglas
University of Illinois
Doctor of Medicine
The Auxiliary of Anderson Hospital awarded five $1000 scholarships for the 2023/24 academic year.
Scholarship recipients were honored at an Anderson Hospital Auxiliary dinner on July 31, 2023.
Kennison Adams, Edwardsville
University of Missouri-Kansas City School of Medicine
Doctor of Medicine; Pediatrics
Jonathan Botterbush, Godfrey
SIU-E
Doctorate in Pharmacy.
Amber Gassmann, Maryville
SIU-E
Bachelor of Science in Nursing.
Mackenzie Sievers, New Douglas,
University of Illinois College of Medicine
Doctor of Medicine
Kate Toennies, Albers
University of Southern Indiana
Occupational Therapist.
Congratulations to our 2023 recipients and best wishes for continued success.
6 of the scholarship winners were presented their scholarships from a group of our Medical Staff leaders on Tuesday, August 1. Three of the winners also earned the Auxiliary Scholarship including Kennison Adams, Amber Gassmann and Mackenzie Sievers.
Pictured: Winners, front row, left to right are: Lily Jurgena, Mackenzie Sievers, Ellery Darr, Gracy Levin, Sara McLaughlin, and Courtney Garrison.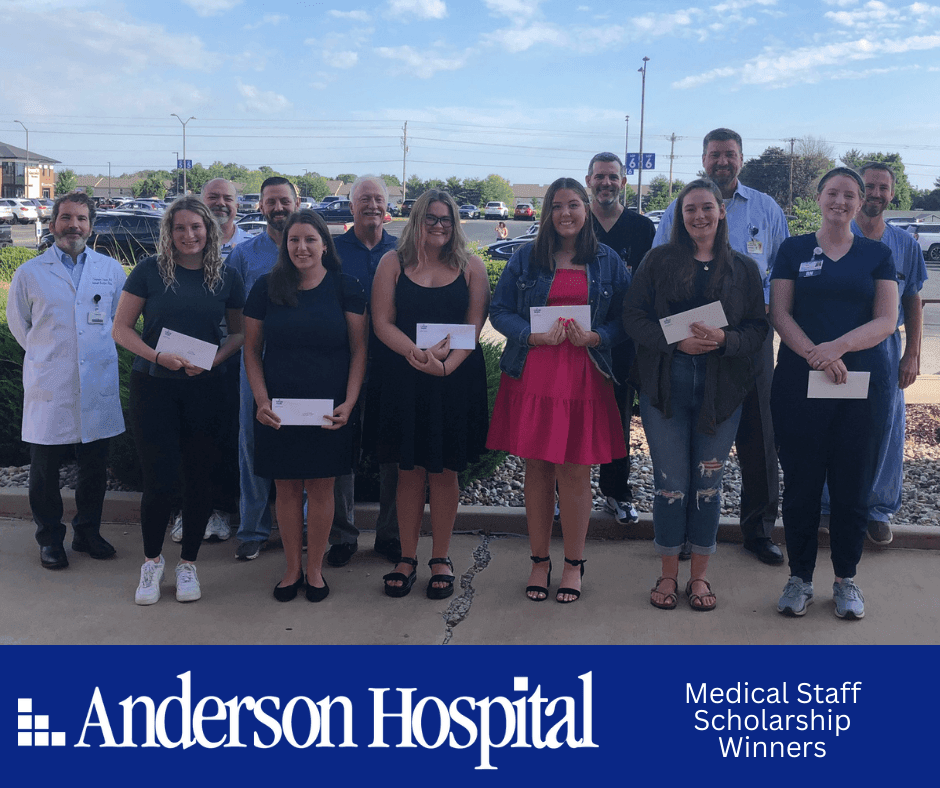 Keith A. Page set to retire in February 2024
On Tuesday, August 1, Anderson Healthcare President and CEO, Keith A. Page, announced his future retirement and succession plan to the staff of Anderson Healthcare. Page is planning a February 2024 retirement which will then mark 28 years of leadership at Anderson Healthcare. "It has been an incredible privilege to serve as the President and CEO of Anderson Healthcare," said Page. "Together, we have achieved remarkable milestones, overcome challenges, and made a lasting impact on the lives of countless patients and their families. I am immensely proud of the progress we have made in advancing healthcare, fostering innovation, and providing exceptional care to our community."
Page began his career at Anderson Hospital in Maryville as chief operating officer in 1996 and became president and chief executive officer in 2003. He has spearheaded many key projects over the years including the Warren Billhartz Cancer Center; an award-winning chest pain center and cardiac catheterization lab; private patient rooms; 24/7 SSM Cardinal Glennon pediatric staffing in Anderson's emergency room and OB unit; 4 Express Care facilities throughout local communities; the establishment of Anderson Healthcare; the addition of Community Hospital of Staunton to Anderson Healthcare; and the establishment of Anderson Medical Group.
Most recently, Page lead the development of a 15-acre Anderson Healthcare Goshen Campus in Edwardsville. This location includes three facilities including the Anderson Surgery Center with Cardinal Glennon Specialty Clinic, the Anderson Rehabilitation Institute and a 50,000 square foot, multi-specialty medical building offering outpatient services as well as over 20 Anderson Medical Group providers.
"None of these accomplishments would have been possible without the unwavering dedication and commitment of our exceptional staff," expressed Page. "I am grateful for having been a part of such an extraordinary journey, transforming a small community hospital into a regional healthcare system."
As Page prepares to step down from his role in 2024, he is confident that the hospital is in capable hands as his transition has been carefully planned for several years. "Our leadership team, along with the entire staff, is well-equipped to navigate the ever-evolving landscape of healthcare and continue to deliver exceptional care to our patients," he said. Page announced that upon his retirement, the current Chief Operating Officer, Mike Marshall, will assume responsibilities of President/CEO of Anderson Healthcare. The current Chief Nursing Officer, Lisa Spencer, will take on a new position as President of Anderson Hospital. "Mike and Lisa have shown extraordinary leadership and knowledge of our organization over the years," said Page. "I have no doubt that under their leadership, we will continue to be a pillar of healthcare excellence in our community."
Page was honored earlier this year with a Lifetime Achievement Award from the Glen Carbon/Edwardsville Chamber of Commerce. The Chamber said, "Anderson Healthcare, one of the region's largest employers, continues to evolve and innovate through Page's leadership. The economic impact Page's efforts have had, both directly and indirectly, are staggering. The positive quality-of-life impact on those needing accessible medical services is immeasurable."
EXTRAORDINARY NURSE RECOGNIZED AT ANDERSON HOSPITAL
July 28, 2023 (Maryville, IL) – Emergency Department Nurse, Madison Roam, RN, of Anderson Hospital was recently honored with The DAISY Award® For Extraordinary Nurses. The award is part of the DAISY Foundation's programs to recognize the super-human efforts nurses perform every day.
The nomination submitted read:
Madison was the first person I encountered when the paramedics wheeled me into the Emergency Room. She was the nurse that helped me change into a hospital gown somehow preserving my modesty in a room of 6 men. She was competent, efficient, caring, professional, and personable all at the same time. I came into ER with chest pain during an evening where the department was swamped. A lot of my time was spent waiting for test results. Even though Madison had a lot of other patients that evening, she always checked on me to make sure that I didn't need anything, that I wasn't in pain, etc. It was a very long night. After about 7 hrs, it was finally decided that I would be admitted, but no room/bed was available on the floor. Madison went in search of a hospital bed to be brought to the ER because I had spent over 8 hrs on a gurney, none could be found. It finally calmed down for the Emergency room staff and Madison could tell that I was getting anxious laying there, my family members had gone home, I was uncomfortable on the gurney, so Madison spent time with me, doing vital signs, checking IV sites, all the while talking to me. After a while, we deduced that we are in fact almost neighbors. Madison is young and at the beginning of her nursing career, but she is showing the compassion and professionalism of a nurse that is much older with more nursing time behind her. She is truly an asset to Anderson Hospital and especially to the Emergency Department. I want to thank her for taking such excellent care of me on a crazy night in the ER.
The not-for-profit DAISY Foundation is based in Glen Ellen, CA, and was established by family members in memory of J. Patrick Barnes. Patrick died at the age of 33 in late 1999 from complications of Idiopathic Thrombocytopenic Purpura (ITP), a little known but not uncommon auto-immune disease. The care Patrick and his family received from nurses while he was ill inspired this unique means of thanking nurses for making a profound difference in the lives of their patients and patient families.
Said Bonnie Barnes, FAAN, Doctor of Humane Letters (h.c) and Co-Founder of The DAISY Foundation, "When Patrick was critically ill, our family experienced first-hand the remarkable skill and care nurses provide patients every day and night. Yet these unsung heroes are seldom recognized for the super-human work they do. The kind of work the nurses at Anderson Hospital are called on to do every day epitomizes the purpose of The DAISY Award."
For a complete listing of healthcare organizations currently running the program, please go to http://DAISYfoundation.org
In addition to the DAISY Award for Extraordinary Nurses, the Foundation expresses gratitude to
the nursing profession internationally in over 5,000 healthcare facilities and schools of nursing with
recognition of Nurse-led Teams, Nurse Leaders, Nurses Advancing Health Equity,
Nursing Faculty, Nursing Students, Lifetime Achievement in Nursing and through the J. Patrick Barnes
Grants for Nursing Research and Evidence-Based Practice Projects, Medical Mission Grants and their new
Health Equity Grant programs. More information is available at http://DAISYfoundation.org.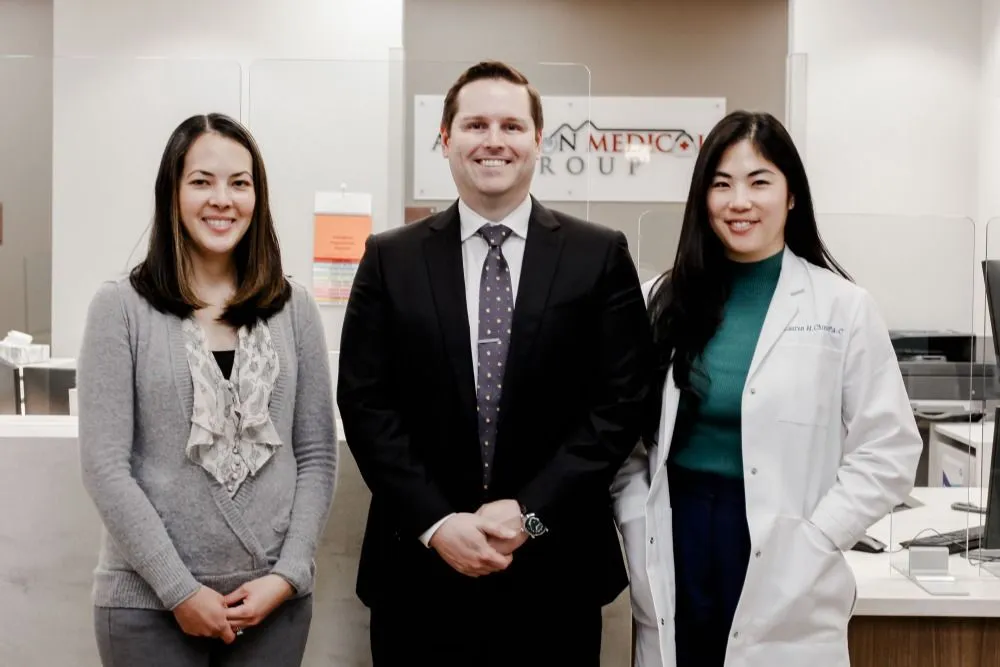 Left to Right are Dr. Teschke, Dr. Abernathie and Lauren Chinn, PA-C
Anderson Medical Group is pleased to introduce an exceptional team of specialists. Our new providers bring their extensive experience to partner with our team at Anderson Mercy Cancer Care to provide surgical breast cancer care to our community.
Patricia Teschke, MD Breast Surgery
Dr. Teschke brings over ten years of breast surgery experience to Anderson Hospital. She obtained her medical degree from the University of Colorado School of Medicine in Denver, and completed General Surgery residency in Norfolk, Virginia. She is a member of the American Society of Breast Surgeons.
Dr. Teschke values a patient-centered approach, providing personalized care and support throughout the journey from diagnosis to treatment follow-up. When it comes to cancer treatment, she believes early detection should be a priority, "A patient may not even notice a mass or changes to the area, as breast cancer often does not have noticeable symptoms at first. Screening mammograms, which can detect changes within the breast earlier than exams alone, are our most important tool in the fight against breast cancer."
She performs in office procedures including ultrasound guided biopsy and aspiration, and operative procedures including breast conservation therapy (lumpectomy), skin-sparing mastectomy, nipple-sparing mastectomy, sentinel lymph node biopsy, and axillary dissection.
In addition to the diagnosis and treatment of breast cancer, Dr. Teschke also sees patients with other breast conditions including mastitis or breast abscesses, fibroadenomas, breast cysts, and mastalgia (breast pain).
Brenon L. Abernathie, MD, FACS
Plastic, Reconstructive, and Hand Surgery
Dr. Abernathie is a board-certified plastic surgeon. He received his medical degree from the University of Missouri School of Medicine and was inducted into AOA, the national medical honor society. He went on to complete his Plastic Surgery residency at the University of Medicine & Dentistry of New Jersey. Dr.
Abernathie is a fellow of the American College of Surgeons and has been selected as a Castle Connolly Top Doctor.
"I feel it is not only crucial to for our team to understand our patient's concerns, goals, and expectations, but to provide the best patient education possible. This helps our patients make informed decisions to fully participate in their care. Effective communication is essential to building the doctor-patient relationship and achieving the best possible outcome."
Additionally, Dr. Abernathie completed a hand-surgery fellowship at New York University and is a member of the American Society for Surgery of the Hand. He treats patients with acute injuries of the hand such as fractures, sprains and tendon tears as well as chronic conditions like carpal tunnel syndrome, arthritis, and trigger finger. This is in addition to general plastic surgery such as breast cancer reconstruction, breast reduction, skin cancer excision, and body contouring surgery such as abdominoplasty and liposuction.
Lauren Chinn, PA-C
Breast Surgery, Plastic Surgery, Hand Surgery
Ms. Chinn received her Bachelors of Science in Molecular and Cellular Biology from Johns Hopkins University, Baltimore MD, and Masters of Science in Physician Assistant Studies from The George Washington University, Washington, D.C. In addition to seeing patients in clinic, she brings extensive training in operative breast cancer care.
Breast cancer comes in many forms and can affect both men and women. Every patient is unique and requires the close collaboration of multiple specialties. A patient may need an entire team, including the breast surgeon, plastic surgeon, radiologist, oncologist, geneticist, general surgeon, and radiation oncologist. Each provider plays an important role in developing an individualized treatment plan to fully address the diagnosis. Our surgical providers work closely with the oncology and radiation oncology specialists at Anderson Mercy Cancer Care, offering comprehensive care within one hospital system, with the shared mission to provide compassionate care to those affected by breast cancer.
The Breast and Plastic Surgery offices are located within the Physician Office Building at Anderson Hospital, 6800 State Route 162, Maryville, IL. To schedule an appointment, please call (618) 391-5330.
KEY WORDS:
Hand surgery
Hand surgeon
Plastic surgery
Plastic surgeon
reconstructive surgeon
wrist surgery
wrist surgeon
carpal tunnel syndrome
trigger finger
trigger thumb
De quervain's tenosynovitis
finger pain
hand pain
wrist pain
broken wrist
broken hand
broken finger
wrist fracture
hand fracture
finger fracture
ganglion cyst
wrist sprain
cubital tunnel syndrome
ulnar neuropathy
tendon laceration
tendon rupture
thumb arthritis
basal joint arthritis
hand arthritis
wrist arthritis
abdominoplasty
tummy tuck
brachioplasty
body contouring
liposuction
thighplasty
body lift
breast reduction
mastopexy
breast lift
breast reconstruction
breast augmentation
breast implants
skin cancer
lipoma
skin cyst
skin lesion
UPDATE: Phone service was restored by AT&T early this morning 5/18/23.
Thank you for your patience.
As of 1:20 p.m. Wednesday, May 17:
We apologize for the inconvenience. AT&T is on site working on the issue that is affecting all incoming calls of Anderson Hospital and neighboring businesses.
We have set up a temporary main number that will take you directly to the Operator…
please call 618-205-3903

to speak with the Operator.

On Friday, April 21, Anderson Hospital held its Volunteer Appreciation Luncheon in recognition of National Volunteer Week at the Leclaire Room in Edwardsville. We were so excited to be able to celebrate our Auxiliary volunteers IN PERSON once again!

Volunteers were treated to a delicious meal from Bella Milano and amazing entertainment from the Edwardsville High School Choir's acapella voices of Bel Canto and AcaFellaz!

The Auxiliary presented the hospital with its annual donation during the event. The donation, which reflects funds raised in 2022, totaled $75,000. This annual donation is made possible through the Auxiliary Gift Shop and fundraising events the volunteers hold/sponsor throughout the year.

Today, the Auxiliary has over 100 active volunteer members and is an integral part of Anderson Hospital. Active Volunteers provide direct services to the Emergency, O.B. and Outpatient Surgery Departments, as well as being "on call" from the Volunteer Office. They manage information desks at public entrances including those at the Cancer Center and Wellness Center. Volunteers are the sole proprietors of our hospital's Gift Shop managing staff, purchasing inventory, and all inventory management.

"The Auxiliary remains as dedicated and instrumental as ever in the continuing operation of Anderson Hospital," said Keith A. Page, Anderson Hospital President and CEO. "We thank them for their many hours of service and commitment to making a difference in Anderson Hospital."
Three Anderson Medical Group practices RECEIVE EXCELLENCE IN HEALTHCARE AWARDS
Three Anderson Medical Group practices were recently recognized by PRC, a leader in the healthcare intelligence space. PRC is the the nation's only privately-held healthcare research and consulting organization.
The Excellence in Healthcare Awards recognize organizations and individuals who achieve excellence throughout the year by improving patient experiences, healthcare employee engagement, and/or physician alignment and engagement based on surveys of their patients.
"It is an honor to recognize these practices with Excellence in Healthcare Awards for their deserving work," said Joe M. Inguanzo, Ph.D., President and CEO of PRC. "It takes true dedication and determination to achieve this level of excellence in healthcare and these providers have shown their commitment to making their practice a better place to work, a better place to practice medicine, and a better place for patients to be treated."
Congratulations to the winning practices:
Tibor C. Kopjas, MD / Internal Medicine – Top Performer Award
This designation is based on the percentage of patients who rate the provider as "Excellent" for the Overall Quality of Care question. Top Performers reach the 100th percentile.
Justin B. Hill, MD / Family Practice – 5 Star Award
This designation is based on the percentage of patients who rate the provider/practice as "Excellent" for the Overall Quality of Care question. 5 Star Awardees reach the 90th percentile or above.
Rodney L. Lupardus, MD / Family Medicine – 5 Star Award
This designation is based on the percentage of patients who rate the provider/practice as "Excellent" for the Overall Quality of Care question. 5 Star Awardees reach the 90th percentile or above.
To learn more about the 2022 Excellence in Healthcare Awards, including eligibility and criteria, visit PRCCustomResearch.com.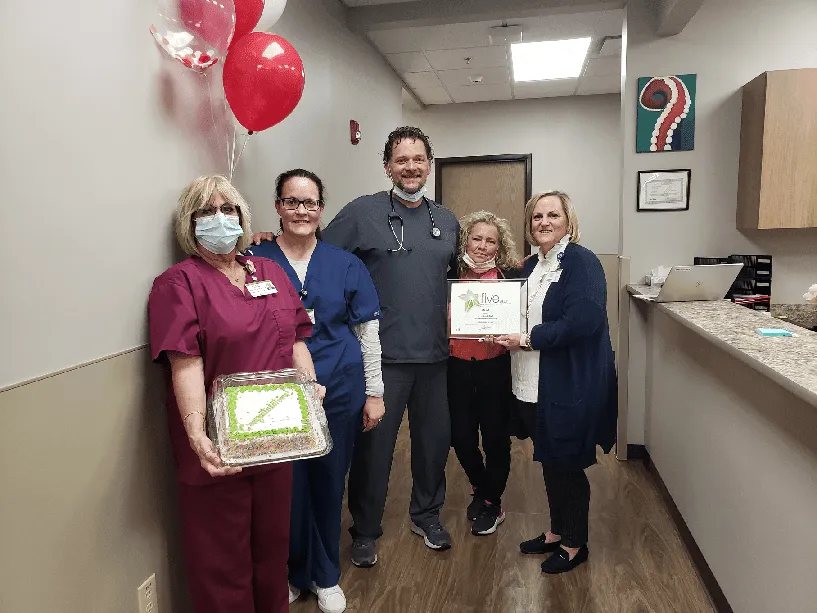 Dr. Kopjas Office Dr. Hill Office Dr. Lupardus Office