Audiology Services
Anderson Hospital provides comprehensive audiology services for both adults and children experiencing hearing loss, difficulty balancing, or other neural system issues.
Treatment for Hearing Impairment
Adult Audiology Services
Our experienced audiologists provide the following services to adults:

Comprehensive diagnostic hearing evaluations

Hearing aid evaluations, fitting, sales, and training

Assistive listening devices for hearing-impaired individuals, including telephone and TV amplifiers, alarm clocks, and smoke detectors

To schedule an appointment with one of our audiology specialists, a physician referral is required.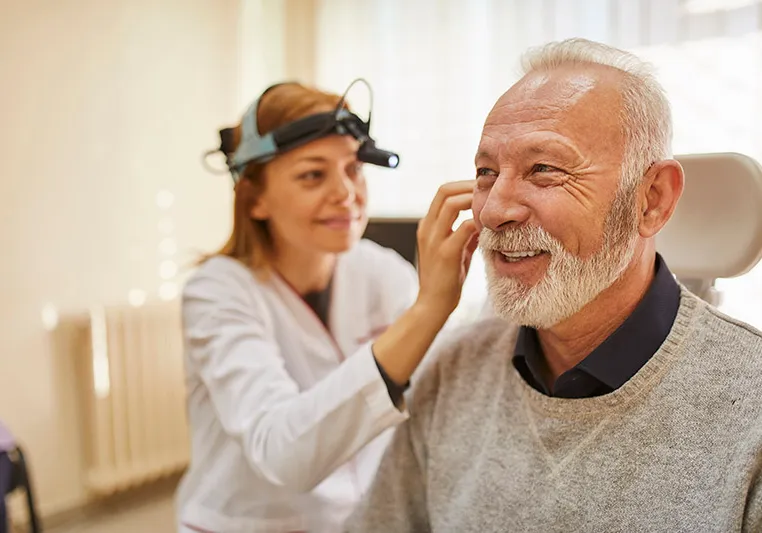 Treatment for Your Child's Hearing Loss
Pediatric Audiology Services
Our pediatric audiologist team provides the following services to children:

Complete diagnostic hearing evaluations, including visual reinforcement audiometry

Play audiometry

Hearing aid evaluations, fitting, sales, and repairs

Ear molds, swim plugs, and sound protectors

Otoacoustic emissions testing

Central auditory processing evaluations

We will work closely with you and your child to ensure he or she is as comfortable as possible throughout the entire process.
Contact the Audiology Department

Locations:

Maryville Wellness Center
2133 Vadalabene Drive
Maryville, Illinois 62062

Bethalto Wellness Center
610 Texas Blvd
Bethalto, Illinois 62010

Goshen Campus
3403 Anderson Healthcare Dr.
Edwardsville, Illinois 62025

Hours:

Monday – Friday: 8 a.m. to 4:30 p.m.

All physicians, physicians' assistants, and nurse practitioners providing services in this hospital are independent contractors or provide service under contract. They are not employees, agents, or servants of Anderson Hospital. These professionals are responsible for their own medical judgement, actions, and billing.