Anderson Medical Group Welcomes New Specialists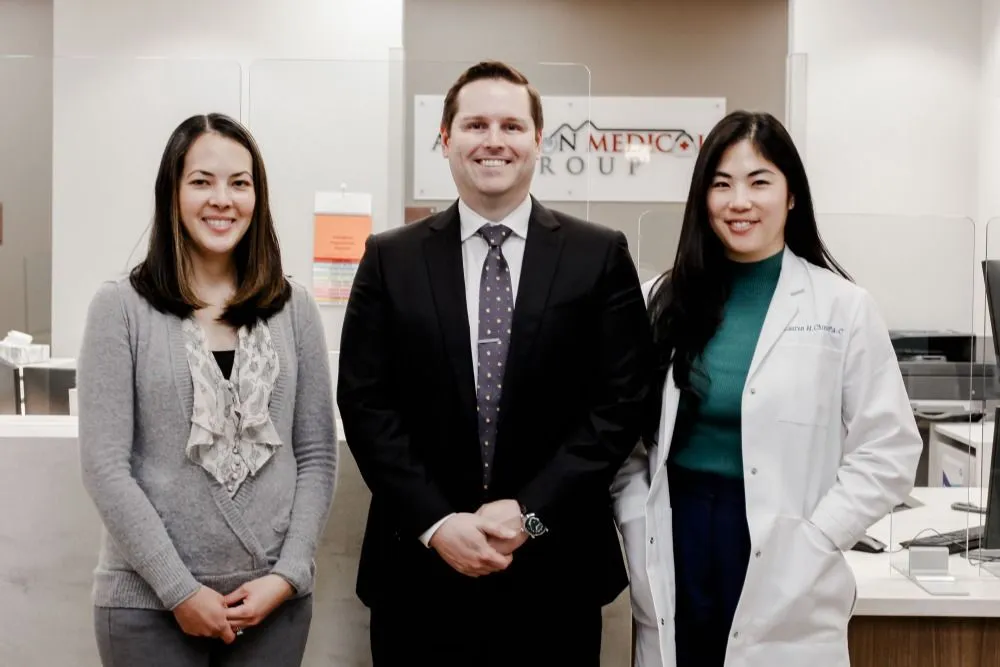 Left to Right are Dr. Teschke, Dr. Abernathie and Lauren Chinn, PA-C
Anderson Medical Group is pleased to introduce an exceptional team of specialists. Our new providers bring their extensive experience to partner with our team at Anderson Mercy Cancer Care to provide surgical breast cancer care to our community.
Patricia Teschke, MD Breast Surgery
Dr. Teschke brings over ten years of breast surgery experience to Anderson Hospital. She obtained her medical degree from the University of Colorado School of Medicine in Denver, and completed General Surgery residency in Norfolk, Virginia. She is a member of the American Society of Breast Surgeons.
Dr. Teschke values a patient-centered approach, providing personalized care and support throughout the journey from diagnosis to treatment follow-up. When it comes to cancer treatment, she believes early detection should be a priority, "A patient may not even notice a mass or changes to the area, as breast cancer often does not have noticeable symptoms at first. Screening mammograms, which can detect changes within the breast earlier than exams alone, are our most important tool in the fight against breast cancer."
She performs in office procedures including ultrasound guided biopsy and aspiration, and operative procedures including breast conservation therapy (lumpectomy), skin-sparing mastectomy, nipple-sparing mastectomy, sentinel lymph node biopsy, and axillary dissection.
In addition to the diagnosis and treatment of breast cancer, Dr. Teschke also sees patients with other breast conditions including mastitis or breast abscesses, fibroadenomas, breast cysts, and mastalgia (breast pain).
Brenon L. Abernathie, MD, FACS
Plastic, Reconstructive, and Hand Surgery
Dr. Abernathie is a board-certified plastic surgeon. He received his medical degree from the University of Missouri School of Medicine and was inducted into AOA, the national medical honor society. He went on to complete his Plastic Surgery residency at the University of Medicine & Dentistry of New Jersey. Dr.
Abernathie is a fellow of the American College of Surgeons and has been selected as a Castle Connolly Top Doctor.
"I feel it is not only crucial to for our team to understand our patient's concerns, goals, and expectations, but to provide the best patient education possible. This helps our patients make informed decisions to fully participate in their care. Effective communication is essential to building the doctor-patient relationship and achieving the best possible outcome."
Additionally, Dr. Abernathie completed a hand-surgery fellowship at New York University and is a member of the American Society for Surgery of the Hand. He treats patients with acute injuries of the hand such as fractures, sprains and tendon tears as well as chronic conditions like carpal tunnel syndrome, arthritis, and trigger finger. This is in addition to general plastic surgery such as breast cancer reconstruction, breast reduction, skin cancer excision, and body contouring surgery such as abdominoplasty and liposuction.
Lauren Chinn, PA-C
Breast Surgery, Plastic Surgery, Hand Surgery
Ms. Chinn received her Bachelors of Science in Molecular and Cellular Biology from Johns Hopkins University, Baltimore MD, and Masters of Science in Physician Assistant Studies from The George Washington University, Washington, D.C. In addition to seeing patients in clinic, she brings extensive training in operative breast cancer care.
Breast cancer comes in many forms and can affect both men and women. Every patient is unique and requires the close collaboration of multiple specialties. A patient may need an entire team, including the breast surgeon, plastic surgeon, radiologist, oncologist, geneticist, general surgeon, and radiation oncologist. Each provider plays an important role in developing an individualized treatment plan to fully address the diagnosis. Our surgical providers work closely with the oncology and radiation oncology specialists at Anderson Mercy Cancer Care, offering comprehensive care within one hospital system, with the shared mission to provide compassionate care to those affected by breast cancer.
The Breast and Plastic Surgery offices are located within the Physician Office Building at Anderson Hospital, 6800 State Route 162, Maryville, IL. To schedule an appointment, please call (618) 391-5330.
KEY WORDS:
Hand surgery
Hand surgeon
Plastic surgery
Plastic surgeon
reconstructive surgeon
wrist surgery
wrist surgeon
carpal tunnel syndrome
trigger finger
trigger thumb
De quervain's tenosynovitis
finger pain
hand pain
wrist pain
broken wrist
broken hand
broken finger
wrist fracture
hand fracture
finger fracture
ganglion cyst
wrist sprain
cubital tunnel syndrome
ulnar neuropathy
tendon laceration
tendon rupture
thumb arthritis
basal joint arthritis
hand arthritis
wrist arthritis
abdominoplasty
tummy tuck
brachioplasty
body contouring
liposuction
thighplasty
body lift
breast reduction
mastopexy
breast lift
breast reconstruction
breast augmentation
breast implants
skin cancer
lipoma
skin cyst
skin lesion